Eyzend – EMS Foot Massage Pro
Description
Take Back Your Quality of Life
Step away from your problems and treat your feet to the ultimate pain relief device, the EMS Foot Massage Pro!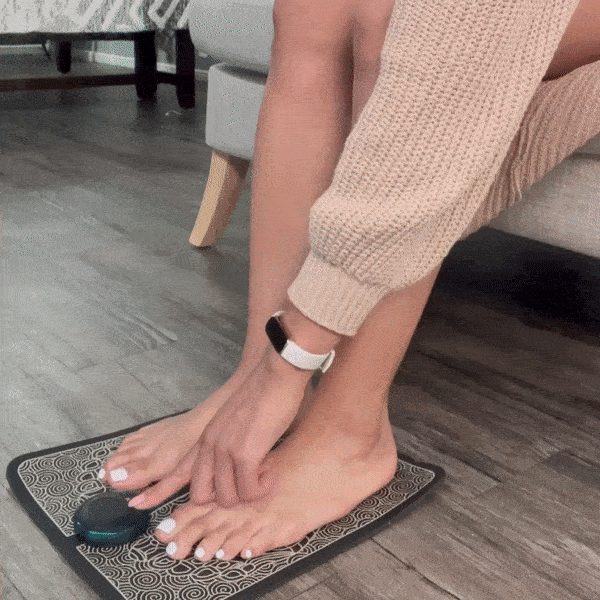 It's the worst experience ever – feeling like you're walking over a field of sharp rocks every time you take a step.
The relaxing massage provided by the EMS Foot Massager can help to reduce stress and tension in your feet, as well as your entire body.
This can help to promote feelings of
relaxation and calmness, reducing the impact of daily stressors on your overall well-being and improving your overall quality of life.
How To Use
After a laborious day or even just wearing uncomfortable shoes, 10 minutes of your time can provide you with complete relaxation and aid in keeping healthy leg circulation. It's the perfect solution to reduce swollen legs and feet pain as well as alleviate tired, burning limbs.
STEP 1: To begin, fasten the operator device to the feet mat by connecting three buttons that control distinct functions.
STEP 2: To activate the device, step on the mat with both feet and press either "+" or "-" to adjust intensity. Once desired settings are established, push "M" to switch modes.
STEP 3: Ready to experience a massage that's equivalent to the one you get in your local clinic? All it takes is 10-15 minutes each day, 3-4 days per week and you can enjoy those luxurious treatments right at home. Make this part of your daily routine for noticeable results!
100% Money-Back Guarantee with hassle free
24/7 instant customer support
100% quality inspection per order
No hidden fees
Real time tracking along the way
Eyzend – EMS Foot Massage Pro